Online Videos
Sexycises by Sexperts: Yin Yang Yoga For Intimacy
Sexycises by Sexperts: Yin Yang Yoga For Intimacy is a love-changing video guide for couples to rekindle passion, deepen intimacy or just have fun together. Get to know these twenty-top sexy sexperts who are also Yoga and fitness experts. You will see live demonstrations of yoga poses that will enhance your intimate connection with your partner. The added health benefits of Sexycises include flexibility, strength, balance, muscle tone, improved energy & vitality. There are 6 levels of poses: Level 1 & 2 is for beginners, while 3 & 4 is for intermediate and 5 & 6 is for advanced Acroyoga experts.
A note from Dr. Ava, creator of Sexycises by Sexperts: Yin Yang Yoga for Intimacy:
"We all know that yoga is good for fitness, balance, strength and flexibility. But did you know that partner yoga can boost intimacy and lead to the best sex of your life?
My Yin Yang Yoga for Intimacy is based on the belief that synchronizing energy eXchange (SEX) creates a sensual bond of trust that can take a relationship to a higher level of intimacy. It contains elements from various styles of yoga, including Anusara, Kundalini, Vinyasa, Acroyoga and Tantra yoga for couples."
There are Sexycises by Sexperts from mild to wild with gentle and relaxing poses for beginners and more rigorous ones that require experience in Acroyoga for more athletic couples. Over twenty sexy sexperts demonstrate poses to help couples stay connected on the journey to sexual satisfaction, while Dr. Ava Cadell narrates the video every step of the way.
How to attract and become the perfect lover. Join relationship expert Dr. Ava Cadell at one of her sold-out seminars in this sixty-minute video. You will learn how to enhance your romantic and sexual relationship or go about starting a new one! With 20 topics to enhance your romantic relationship and sexual fulfillment.
Take control of your relationship now! Discover and learn:
Where to meet someone special
Flirting techniques
First date expectations
Dating rules
Making safe sex sexy
The G-spot mystery
The art of erotic talk
The difference between male and female turn-ons
Using all five of your senses for pleasure
How to keep the flame of passion burning and more…
Jewelry
Pheromone-Infused Jewelry
I've teamed up with pheromone experts Eye of Love to create my new pheromone jewelry!
The necklaces and bracelets are made with black lava rock, one of the oldest and most abundant stones that possess energetic qualities. When sprayed with pheromones, it acts as a fragrance diffuser that becomes a powerful attracting force worn close to the skin. Use promo code DRAVA50 to get 50% off any order.
"Dr. Ava's Guide to Prostate Pleasure will help you to discover just what it takes to please a female partner and enhance your experience of giving."
Being open to prostate play can be empowering for a man, and having his prostate stimulated can result in mind-blowing orgasms for him. This video takes a step-by-step approach to prostate pleasure with erotic demonstrations that show specific techniques guaranteed to increase orgasm intensity and duration. From beginner finger play to external prostate massage, intermediate exploration with sex toys and milking methods, to advanced prostate combinations with oral sex and intercourse, this instructional DVD covers everything you and your partner need to know about prostate play!
"Dr. Ava's Guide to Prostate Pleasure includes The Most Seductive Moves:
Discover his 'million dollar point' for external prostate play
Learn how to incorporate prostate toys into your lovemaking
Enjoy double pleasure: milking the prostate while making love
Achieve triple pleasure with the three P's: penis, perineum and prostate"
"Dr. Ava's Guide to Anal Sex for Women follows two couples who lovingly demonstrate the whole process from beginning to end."
"It demystifies it, and gives people exciting new ideas and techniques that they may not have discovered on their own. Anal sex is a profoundly intimate experience that brings couples together, and this DVD illuminates the specific steps to get there." The guide reveals the 12 Anal Sex Rules essential for anal safety and pleasure, and also teaches innovative skills using the latest anal sex toys. With expert tips on 'anilingus' and playful anal sex positions, perhaps the most enlightening discovery is the demonstration of how a woman's G-spot and A-spot can be stimulated through anal penetration.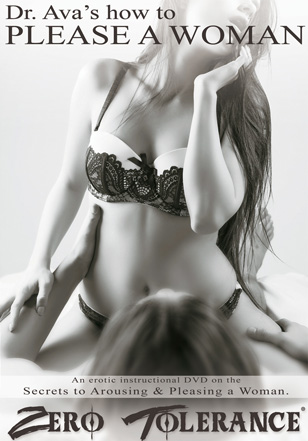 "Dr. Ava guides you through live demonstrations of the four essential phases of pleasing a woman. You'll learn how to satisfy her emotionally, physically, sexually, and even after lovemaking. Brush up on how to create a romantic atmosphere and get her into the mood for sex. Discover sensual foreplay techniques, oral sex tips, and many orgasmic sexual positions. Explore and stimulate her G-spot, A-spot, and U-spot!"
This video will help you to discover just what it takes to please a female partner and enhance your experience of giving.
Pleasing a woman can be a very rewarding experience. You have the power to become the ideal partner and lover that she wants, to make her desire you and even ask you for more sex!
Pleasing a woman means stimulating her mind AND her body, helping with bedroom confidence, rewarding, putting her needs first. Pleasing a woman is consideration of her feelings, communication, surrender and EASIER than you may think.
"Dr. Ava's Guide To Oral Sex" is a three-disc DVD set that has everything couples need to know about oral sex."
"With beautifully shot explicit demonstrations of over 90 techniques, consumers will learn innovative new skills such as Panty Play, The Steaming Box and His Million Dollar Spot – methods not available anywhere else. The first disc 'For Couples', the second 'For Her' and the third, 'For Him,' cover all the bases for maximizing couple's pleasure through oral sex. In total, the set contains over three hours of fun-filled edutainment' including expert tips on advanced oral sex positions and playful oral sex games. "This sexy video leads to better oral experiences with your lover, so that both of you can reach levels of pleasure you may not have known possible," said Dr. Ava Cadell.
"Sensual BDSM can be highly erotic, which is why I want to help couples express their desires to experience even more exciting sex and deeper intimacy. Adding a pinch (excuse the pun) of BDSM & erotic power exchange can help you to explore your dominant and submissive fantasies, push your boundaries to expand your sexual horizons, while enriching your love life. And who doesn't want to do that?" says, Dr. Ava Cadell.
Whether or not you've read a copy of the BDSM bestseller Fifty Shades of Grey by E.L. James, you know by now that women want to move beyond boring sex! Dr. Ava's Sensual BDSM for Couples can help you to push your boundaries to explore your sensual limits with someone you trust.
If you enjoy that extra nipple stimulation, so rough that it has to hurt just a little to feel good? Or like to surrender to your partner and get a thrill when your hands are restrained or your eyes blindfolded? Then you will love this DVD that demonstrates two couples role-playing and incorporating some degrees of bondage, discipline and domination into their sex life.
COMPLETE YOUR NAME & E-MAIL
TO GET YOUR FREE GIFT TODAY
By submitting this form you are granting Dr. Ava Cadell permission to e-mail you. You may unsubscribe at any time